War Years
"...nobody ever believed such a foolish and terrible war start by Japanese navy in Pearl Harbor"
Pearl Harbor
We Japanese in America realized that the relations between Japan and America very critical. But nobody ever believed such a foolish and terrible war start by Japanese navy in Pearl Harbor, and could not believe our ears when the news reached to us. It was Dec. 7, 1941… In the morning very early, bunch of FBI force came and took them… nearly all of Japanese who thought to be the leader of Japanese community were taken. There were lots of commotion among Japanese. We learned all of them held at County Jail, and some of them allowed come home to the house to dress up because lot of them were in nightgowns. We were warned by friendly neighbor, be careful to going out, because some of the men boasting kill the first Japanese come to his way to avenge his son's death at Pearl Harbor.
Evacuation
The date of our evacuation was set at June 5th and 6th, 1942, and we had been told pack up our clothing and other, as little as can. Just limit to immediate, everyday use, and all our things to store in the private place at our own risk on government designated warehouse. So we just pack our clothes and other few necessities, waiting the order to board a train carry us somewhere. Evacuate all Japanese in Yakima Valley from Ellensburg to Kennewick by Columbia River take 2 long trains for 2 days, on train each day. We board the first train the first day without knowing where our destination will be. The day just before we board train our friend Mr and Mrs. Karl Herteman invite us to bounteous farewell dinner. In time some American looked us with white eye our gratitude was very deep. Thousand people all around country came to send us off, and their send off were very hearty. Some of them, running around frantically to find own Japanese friend, it is very touching, and I thought, we Japanese not hated at all.
Instead we realize had have many of friends when we part with our multitude friend McDonald, Boyd, Herterman, and other, our eyes were full of tear. We arrived Portland Oregon next morning and we found our temporary camp in the livestock sales building by the Columbia River, with barbed wire fence around and soldiers guarding with the gun…All building were for livestock, so ill-smelling all over, even after fixed up and clean up… There is no privacy in this camp restroom, bathrooms all open to the public sight/view… After little while, organized school grade, and high school, and start educate children, my son Arthur (Makoto) and his wife appointed as High school teacher and taught the school.
Nyssa Idaho: Farm Labor in war years
About two weeks experience in Nyssa I came to belief I could live with my wife with my earning. So write to her to come and my daughter Sono with little girl Annabel – came together and we enjoyed our reunion. My wife was so glad to live in freedom instead the camp, guarded by armed soldier and live on government handout. She say "it is good to eat the meal which my own husband's work provide, feel like real somebody."
Brother Sannosuke
I stay the camp over a month nursing my brother, who suffered the mental depression after 2 years of confinement (in the camp hospital). His mind so depressed he can not distinguish his camp to other, can not find rest room and dining hall. The hospital in the Seattle wrote me, his eyesight bad, so get examination by eye specialist. I did what they wrote me, but not do any good to his mental depression.
After about month stay in camp his condition not improved, rather get worse, can't keep him in the camp. So send him to asylum of state Idaho Blackfoot. I could not do anything because the wartime condition. In the Fall I get report from asylum that his death, so I request to send his remains to Weiser, there I buried him on City Cemetery of Weiser Idaho, with very simple and most immediate relative and friends. Brother Nisaburo came from Manzanar relocation camp near state border and Miyoshi (our cousin) came from Seattle to funeral. It was very sorry, especially I could not do anything owing the wartime.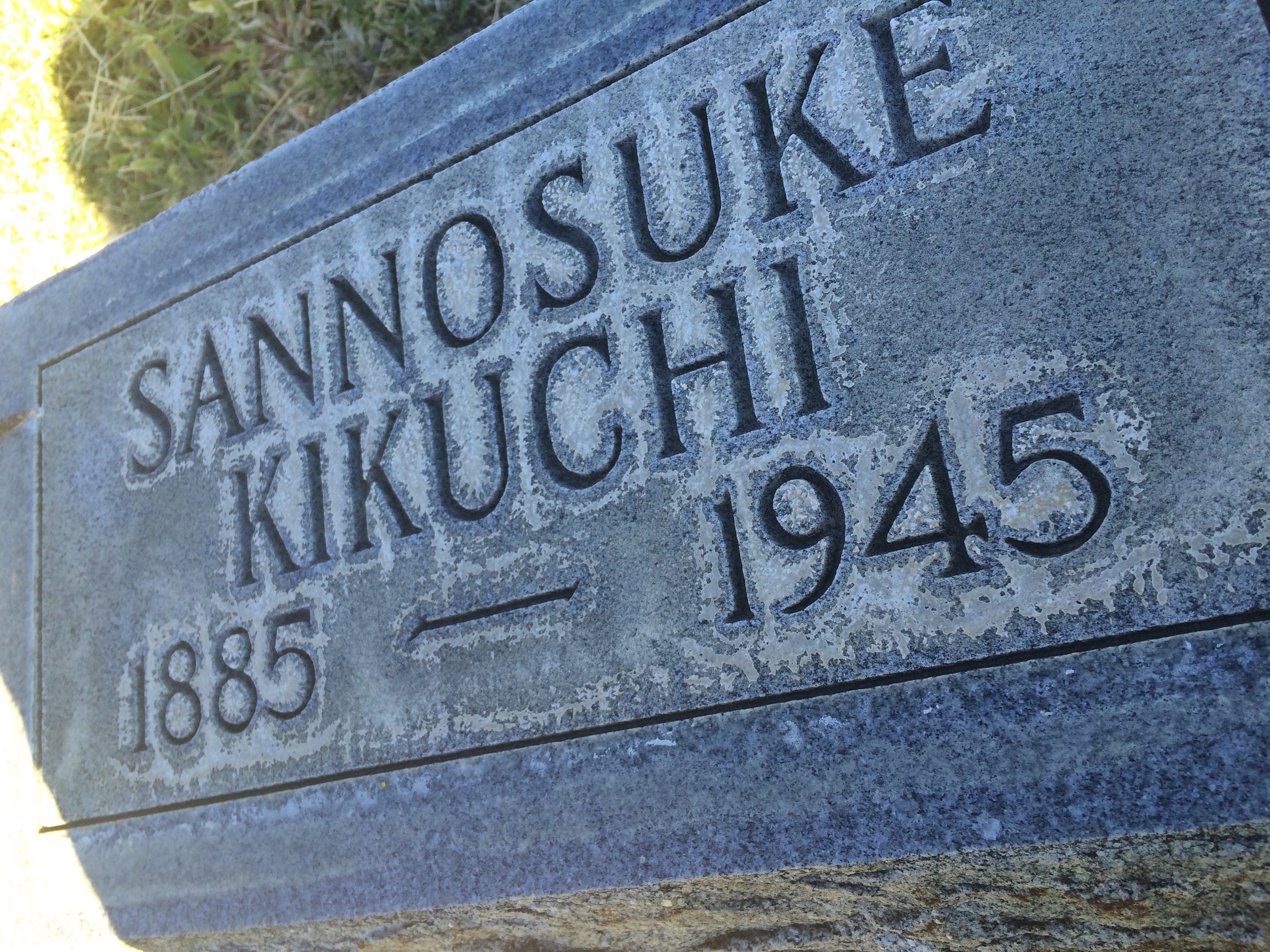 words by Zenkichi Kikuchi, 1880 - 1965
read in 日本語